Although every area of your home is important, the master bedroom is arguably the most important space. For many of us, it is a refuge and it should always feel luxurious, even when you don't have the cash to make expensive upgrades. The good news is that you don't have to break the bank to create a plush-looking bedroom. Here are a few tips that will allow you to get a luxurious looking bedroom on a budget.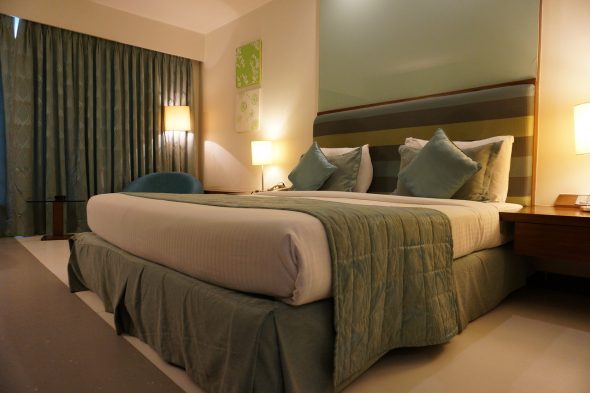 1. Upgrade the Lampshades
Most bedrooms have a few lamps and they're probably a functional part of your room. However, the shade that comes with many lamps is basic and designed to go with any number of interior looks. An easy way to improve the overall look and lighting of your room is by adding new lampshades. To get a better deal from your shade, look for a shade in a different color or a fabric that stands out. Also, choosing a shade that's a little taller than usual can dramatically change the look of the whole room.
2. Declutter and Go Minimal
While we often use our nightstands for extra storage, overloading them with unnecessary items turns into clutter and takes away from the overall look of the room. You should also reduce the number of accessories you have on your nightstand as well. Try to stick to a few basics like a clock, a dish for jewelry, and one or two other items. Any other clutter should be kept in the nightstand drawer where it belongs.
And you shouldn't stop at the nightstands as well. If your goal is to have a fabulous looking room, it should be completely free of clutter. How many of those picture-perfect Pinterest bedrooms have you seen that were a mess? No matter how good the bedding is or how much you paid for your furnishings, a cluttered or dirty room will never look luxurious. Pay close attention to the floors and clear anything that isn't necessary. Your bedroom should not serve as a repository for old books, exercise equipment and folded clothing.
3. Create Multi-Function Spaces in the Bedroom
Although the primary use for your room is sleeping, you can actually create an interesting look by making it more multipurpose. A simple way to tweak your space is to arrange your furniture purposefully and then add some decorative elements from other rooms. For instance, you could add a chair with a throw pillow and a side table to create a small reading area. Having an accent chair is a fun way to add to the appearance of the room and even make it more of a haven.
4. Dress Your Bed
Luxury rooms all have one common feature: a well-made bed like the Queen Murphy Bed. So, before you even think of upgrading it, make a commitment to keeping your bed as neat as possible at all times. Once you've done that, you can start thinking adding more accessories. If you want to upgrade your bedding, invest in some bamboo bed sheets. These are a great, inexpensive option for the bedroom and are also very soft and durable. And don't be afraid to mix and match colors. Shades of gray and taupe can add a touch of luxury to any bedroom.
A well-put-together bed should be topped with layered accent pillow for night sweats. Pillows are also a great way to accent your bedroom without breaking the bank. Place your sleep pillows along the head of the bed and overlay with decorative pillows. You don't need a thousand pillows to create this look so choose a few and get creative with the colors and patterns. Choose pillows that bring out the color in the room and have interesting textures.
5. Consider Crown Mouldings
Even a plain bedroom can be improved simply by adding some crown mouldings. If you don't have these installed in your room, then consider going to a local home improvement store to find a style that's right for your space. Depending on your level of skill, you can choose mouldings that may need to be nailed into place or choose the self-adhesive moulding. Both are good options and are affordable as well. No matter which one you choose, paint the moulding to match the walls or use contrast for an instant upgrade.
6. Update Furniture
Everybody would love to buy new furniture, but it's not always easy on the wallet. However, if your furniture is looking a little worn, then you could either update it or make some few minor chances. For instance, you could replace drawer pulls and knobs with a more contemporary and elegant design choice. You can find glass and metal alternatives that adds some pop to your room without being tacky. If you're big on DIY projects, then you can often refurbish and repaint furniture yourself. You could also consider using reclaimed wood furniture and sprucing it up.
7. Raise the Curtains
Smaller rooms don't usually look luxurious and low ceilings may be an issue. If this is the case, raise your curtains high. When the rod is just an inch or two away from the ceiling line and the drapes go down to the floor, rooms look much bigger – and also more elegant.
8. Go Green
Even if you don't want to spend a lot of money on the room, that doesn't mean you can't have some green in the space. Plants and flowers can completely change a room and are inexpensive to add. If you don't have any vases, find an cheap, simple one and add flowers of your choice or put a few small potted plants in the room. Ferns, pothos, or dracaena are all simple plants that will add to the look of any bedroom. They also will help purify the air naturally.
Conclusion
As you can see, it's perfectly possible to have your bedroom look like a thousand bucks on a two-dollar budget. These few tips should be more enough to get your creative juices flowing, so don't be afraid to experiment and find a look that works for you.