Collection of spooky outdoor Halloween decorations is a great place to start to make your house the spookiest on the street. Skeletons, garage and window door display, graveyard scenes, spider web decorations, porch and sidewalk displays that brings the Halloween spirit alive. Number of Halloween silhouettes and free patterns of swank ghost, witch and skeleton are readily available on net. If you like seasonal decorations you can opt for decor which works from Halloween through Thanksgiving. These DIY Halloween Outdoor decoration ideas are inexpensive and will welcome trick- or- treat guests in style.
Greet the trick -or-treat guests with a scarecrow mascot, scary or friendly, casual or formal, create a lumber body mascot secured with wood glue. A dried or plastic gourd will last longer than a fresh one and a scarf and hat are the perfect accessories to cover it up and right impression. Pic Courtesy
Made from inexpensive balloons and gauze fabric, fill your trees or front porch with free-flying ghosts. Pic Courtesy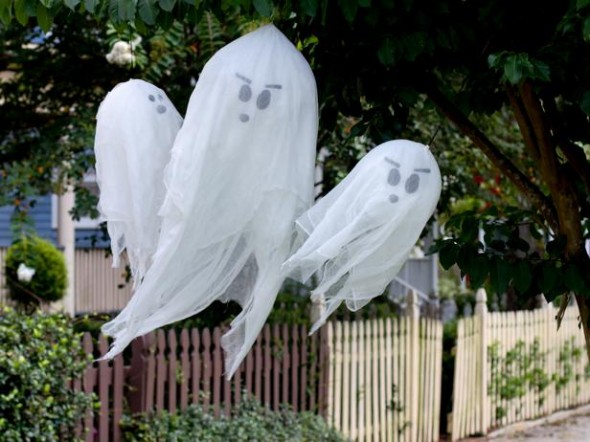 Real bonfire can be too dangerous for kids, create a low maintenance fire pit with faux pumpkins and battery operated candles and logs. You can also Buy a pumpkin carving kit for kids for more bonding activities with your kids. Pic Courtesy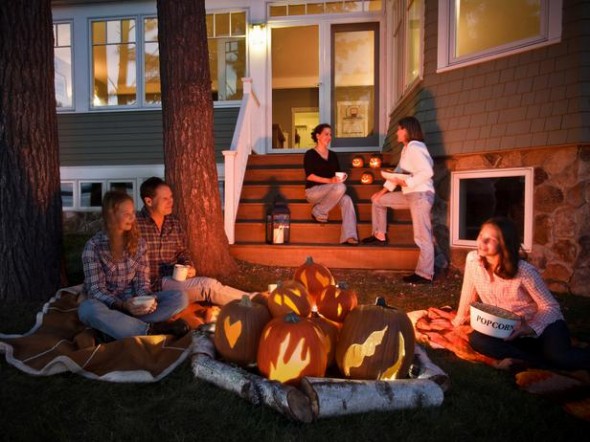 Give your house a look of a haunted bed and breakfast, get an old and weathered post and create a welcome post. Pic Courtesy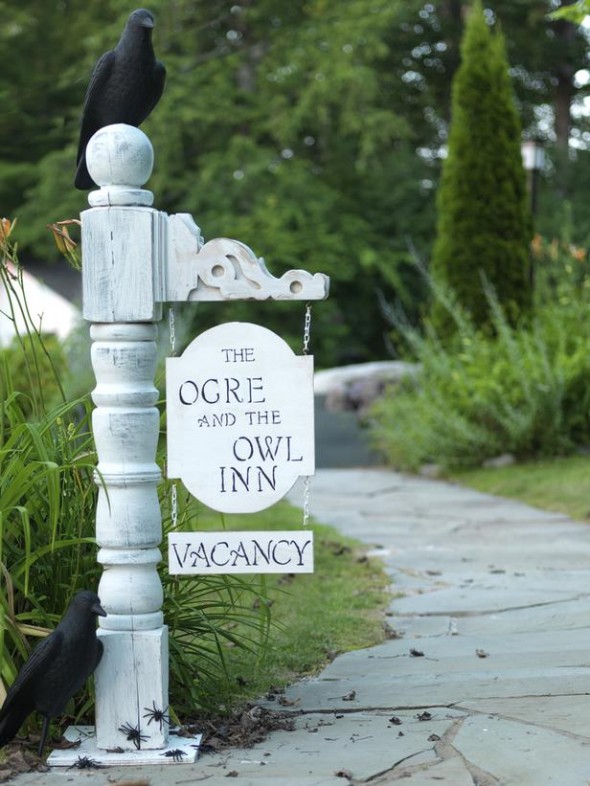 A simple fabric wreath which can be used for various occasions, for Halloween you can attach mini black plastic spider clips to bright white fabric. Dress your front door with just few basic materials and tools from craft store. Pic Courtesy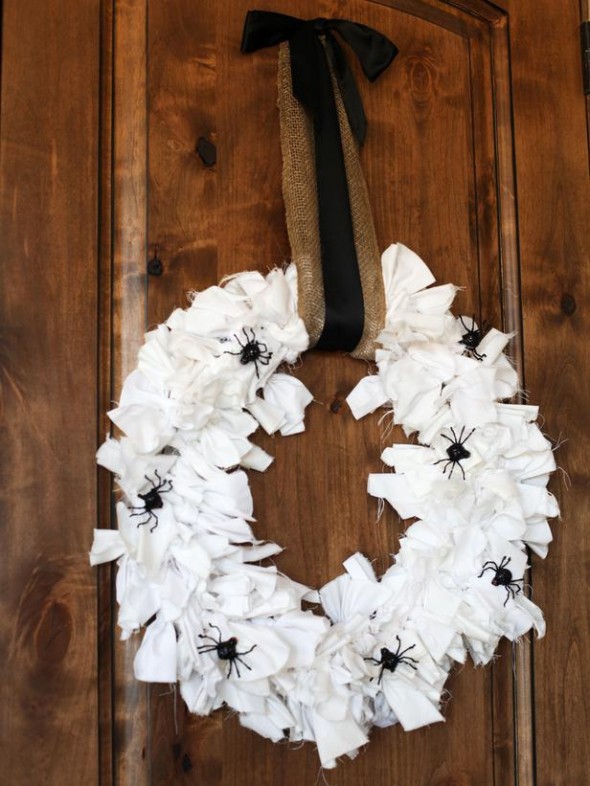 Guide the way to front door with illuminated picture lanterns, use old picture frames and join them together to make a  square, vellum paper spooky drawings can be inserted into the frames. Pic Courtesy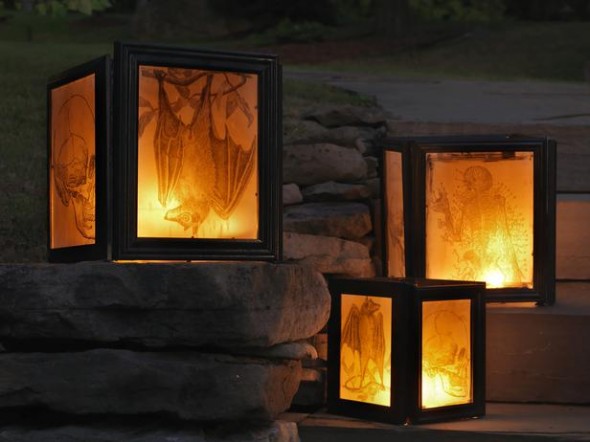 Give your guests a hair raising style by turning your porch into a bat cave. Link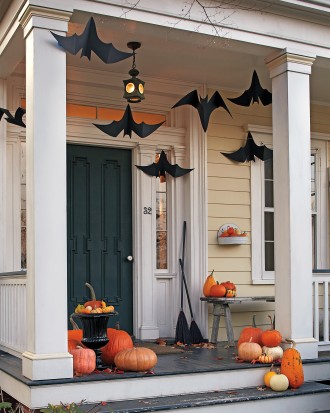 Let owls guard the trick -or-treat night, you can use perches to support the overall look and decorate the front door. Link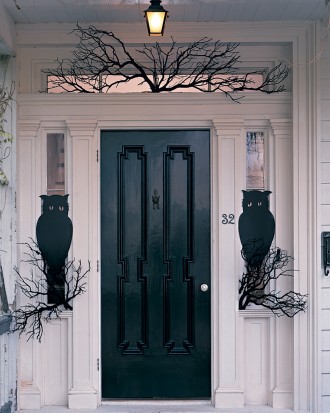 Set a spooky scene with monstrous birds silhouettes, create a light effect with green bulbs pointed at the windows. Pic Courtesy
Get crafty, lightweight doormat that resembles a spider web by using clothesline, old mat and heavy duty glue. Pic Courtesy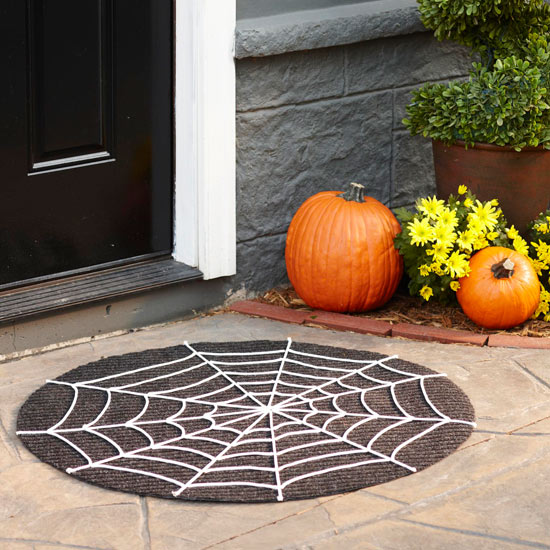 Create a overflowing cauldron filled with potion ingredients including spiders, rats, eyeballs and bat wings. Use spray foam carefully and let kids near only when its dried. Pic Courtesy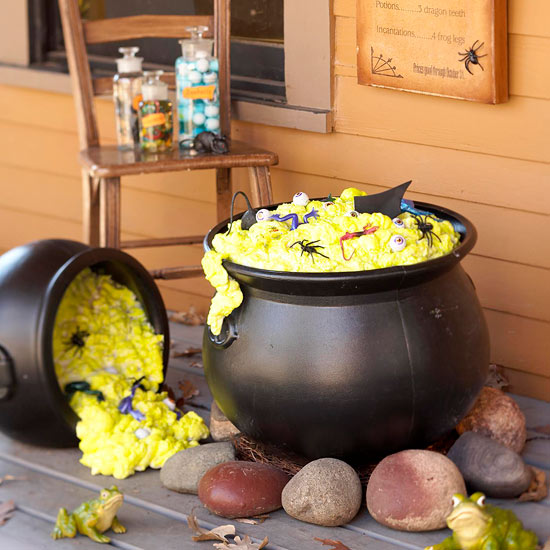 Pumpkins can be used to create number of decorations, use pumpkins to let your emotions out. Use painters tape to mark off stripes; paint with black acrylic paint. Trace letters or words with stencils; use a small brush to paint them with more black paint; let dry. Using a large drill bit, cut out evenly spaced holes. Pic Courtesy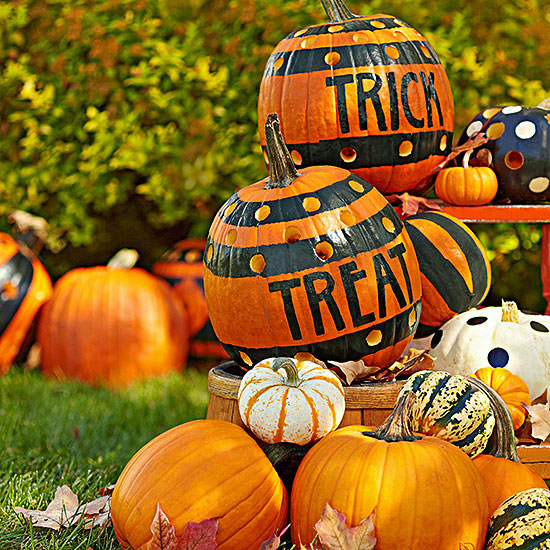 Light your sidewalk with a lineup of carved jack-o'-lanterns using shepherd hooks. You can use battery powered candles will keep the pumpkins illuminated without any risk. Pic Courtesy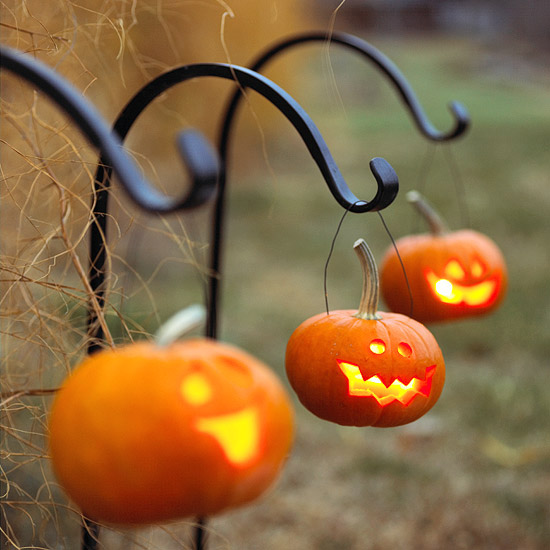 Create a witches' parking spot, wrap twigs and grasses around wooden dowels and bind with rope. Hang a warning sign for anyone who might try taking the spot. Pic Courtesy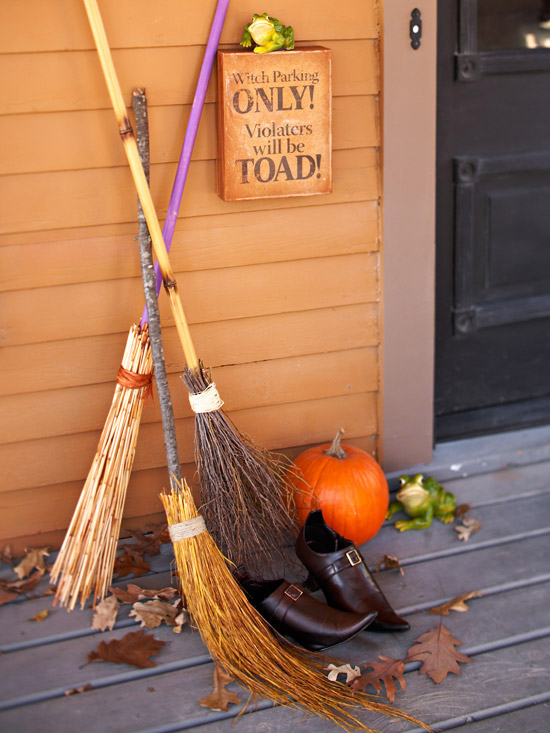 Lets Decorate Impressive!!