Bathroom is one of the smallest rooms in the house and will require less time designing and updating it, but to get a designer and stylish bathroom appeal you have to think out- of-the-box. If you're considering a home remodel, it's important to consult with remodeling experts. These professionals can help you make the best choices for your home, ensuring that your remodel is both beautiful and functional. They can also provide valuable insights into the latest trends and technology, helping you create a truly unique space. A bathroom remodeling contractor may recommend fresh paint, new accessories and a detailed finish which can make even smallest spaces stylish. These stylish bathroom remodel ideas will inspire you to create your special room today! Pics Courtesy
 The Marble Effect
Material and finish always come first in any design, and glamours marble can be one of the most preferred options. A glamorous Cipollino marble was used on the floor, work surfaces and splashback of this bathroom, along with art-deco style cabinets.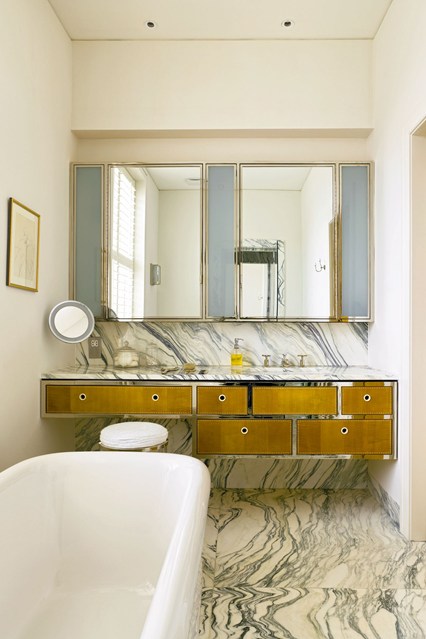 The Industrial Style
This vintage industrial style is not so easy to get but this one makes a different style statement. Stainless steel shower fixtures, industrial style tiles and hardwood floors can go on bit higher side on the budget.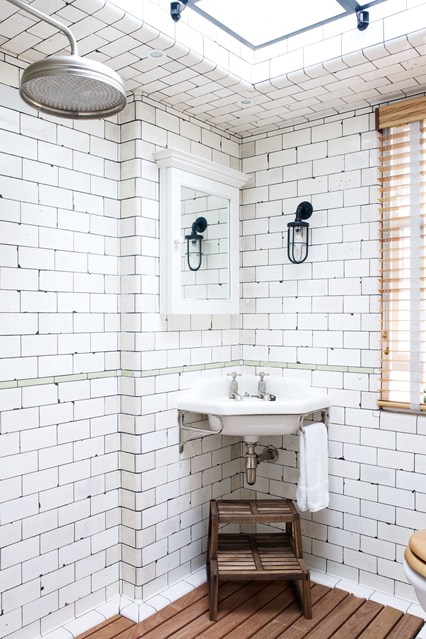 The Silver Effect
Give the bathroom an open space feel, allowing the 'Usk' bath and 'Double Lowther' basin,  from Drummonds  take center stage. Contrast of paneled walls and marble mosaic floor compliment the room. For an ultramodern look, consider a frameless shower door installation, it will also make your bathroom appear larger.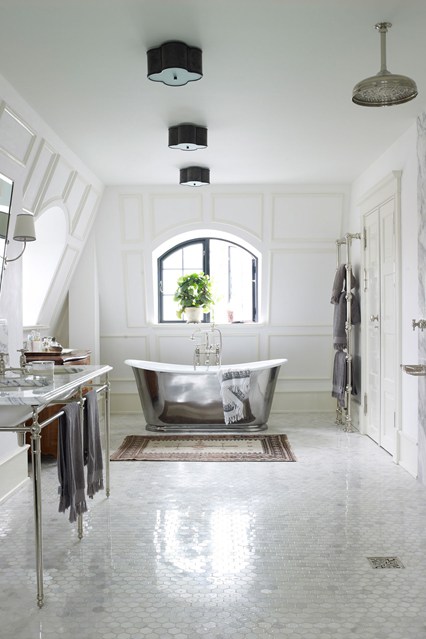 Bohemian Style
A mix of industrial -style design and vintage, this bohemian style attic bathroom is perfect. What makes this attic bathroom complete- natural light. Don't compromise on that!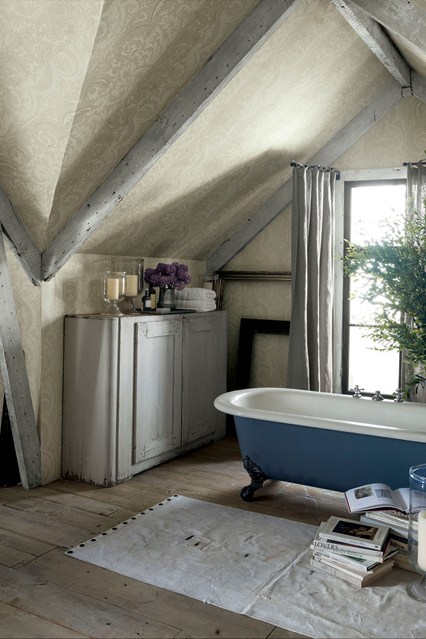 Accessorize
Even the simplest accessories can change the look of the bathroom, this nautical theme simple linen curtains stand out amidst this calm theme. Nickel and white chrome light fittings make it a complete.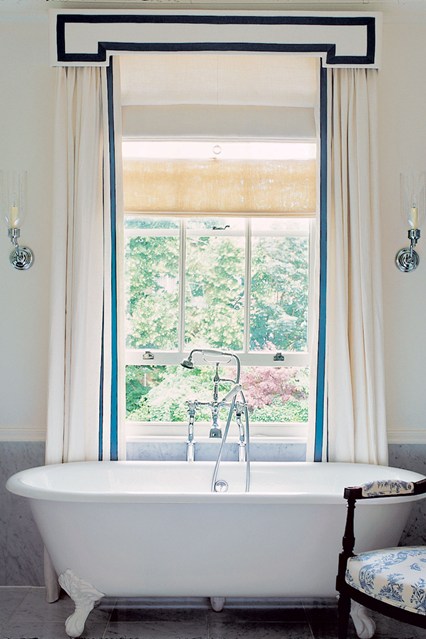 Black & White Theme
Strong accents can sharpen a muted theme, black fittings make a bold statement in this all white bathroom.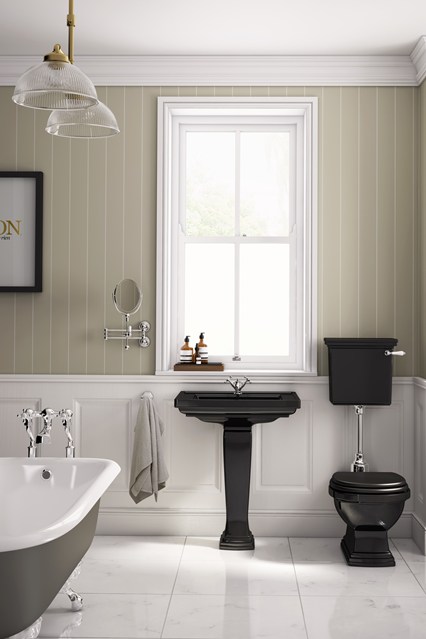 The Collections
Display your collectible in the bathroom, create a special nook in the bathroom for those collections to hang in.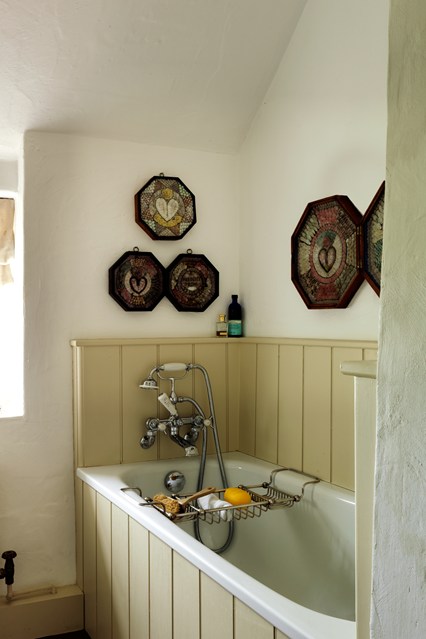 Under the Sea
This one fits right into the stylish bathroom ideas, this 'Seaweed Lace' in the bathroom gives fresh and bright look to the room. White background makes it more spacious and shell inspired decor is definitely a charm.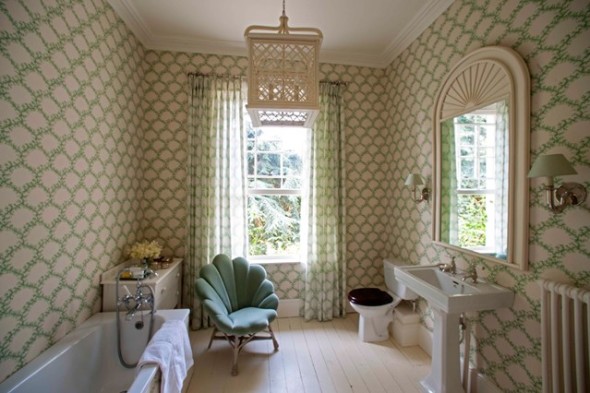 Wallpaper Walls
There is something charming about wallpapers, combine them with painted groove boards and marble for a complete look. Add mirror doors to save space and create hidden storage.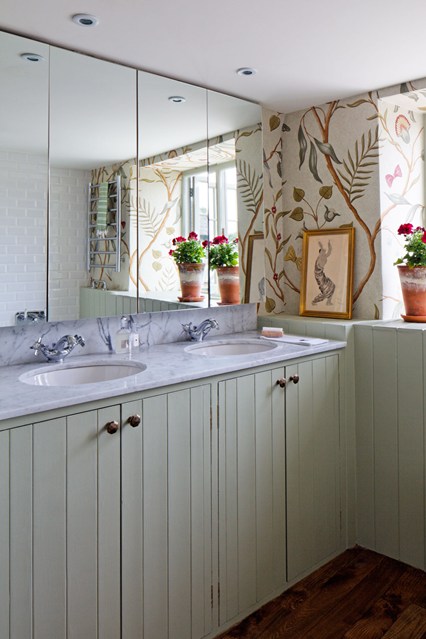 The Gallery
Glass shelves filled with delicate glassware in blue color brings luminous touch to the room and decorative groove box brings character and gives an artistic touch to the space.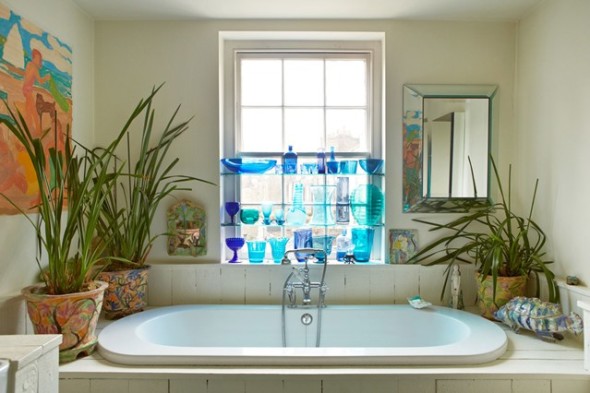 Lets Live Impressive!!