Decorating in a small space can present multiple challenges especially during Christmas season. Here we have collected Christmas tree decoration ideas which are easy to do. Christmas tree is must have and it is not easy to move or even remove furniture to accommodate a real tree. Hanging and taping the decorations can be a little hectic as well, these Christmas tree decoration ideas for small spaces will make your holiday decorations interesting and enjoyable project. Merry Christmas!!
1. Consider a cardboard Christmas tree: Made out of recycled cardboard, it can be folded up neatly and tucked away for next year for those with limited storage space.  It is safe and green idea for this Christmas season. Pic Courtesy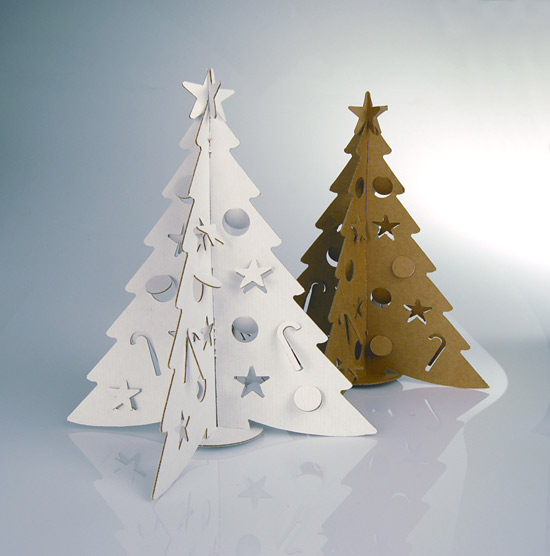 Christmas Tree Decoration Ideas – DIY
2. Prep up the Display: Display all your prettiest ornaments on a three- tier serving tray, add sprigs of evergreen and presto, instant holiday decor for a tabletop. Add a twist to decorations around the Christmas tree. Pic Courtesy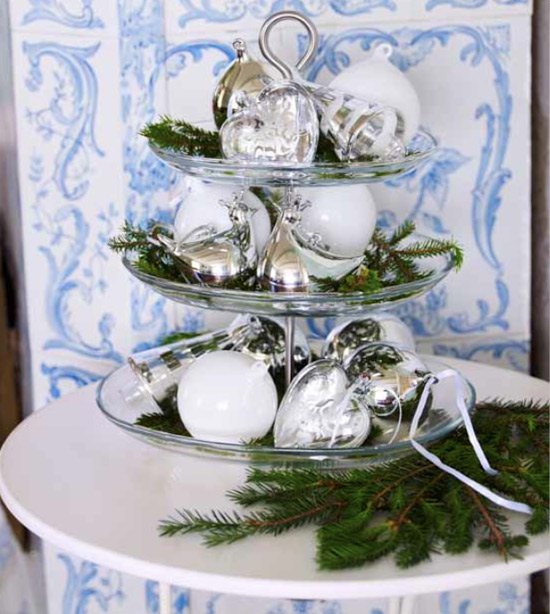 3. Go Bold: Don't be restricted to traditional Christmas tree; introduce white faux tree this season.  Decorate with rainbow color ornaments; they can be a gorgeous addition to your tree. Best part, you don't need lot of space to showcase this one. Pic Courtesy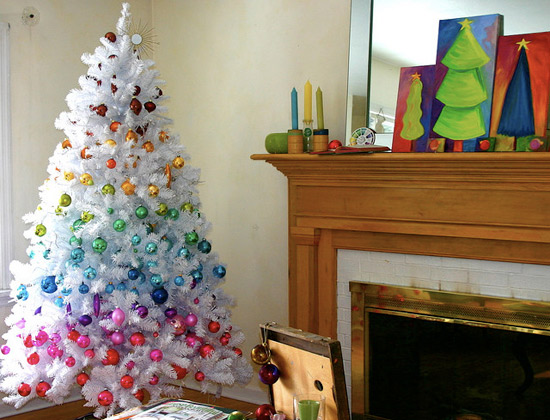 4. Alternatives: Branch out, looking for a alternative Christmas tree is the tiny potted evergreen tree that sits on your table. Create a sophisticated look with a vase and an assortment of tall branches. Decorate with vintage tin bird ornaments for a rustic look. Pic Courtesy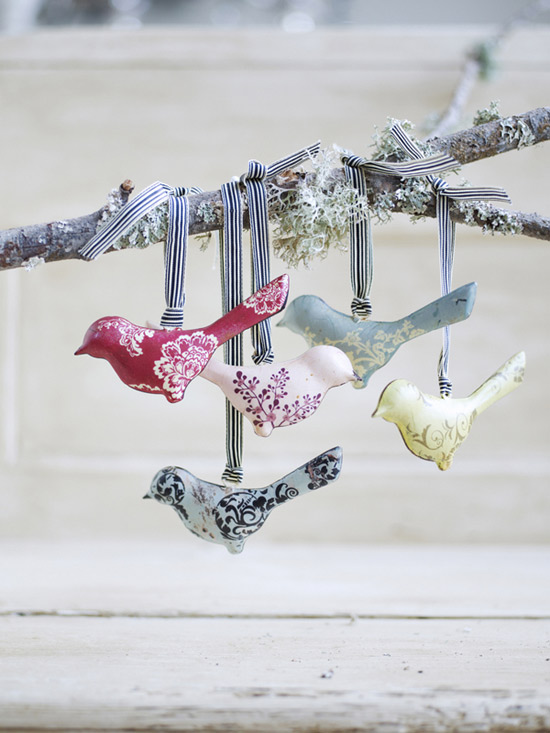 5. Mix- it- up: Drapes and ribbons go long way, you can use them as alternate decoration element on a banister, over a window or door or any handy place on the wall. Mix them with natural elements like pinecones which fulfills the void of a Christmas tree. Pic Courtesy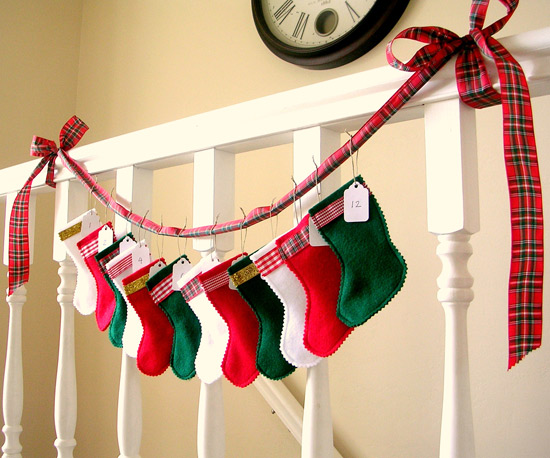 6. Think Small: Perfect for small spaces, a beautiful miniature tree adorned with our favorite ornaments, garlands and a little star on top. Add to the fun by arranging wrapped gifts around its base.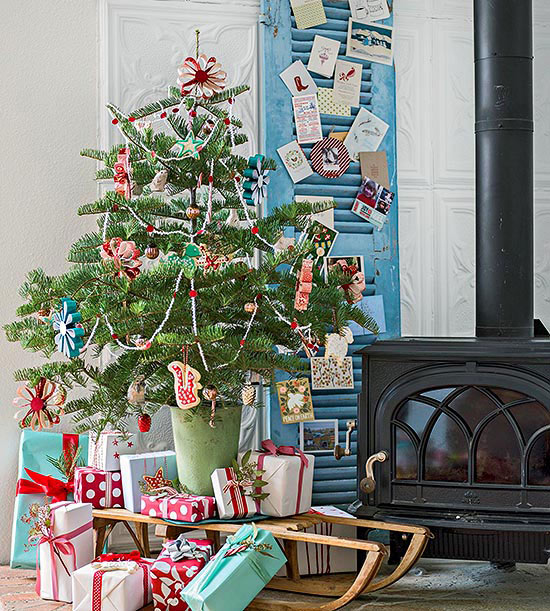 Non Traditional Christmas Tree Decoration Ideas
7. Be Creative: Turn a shelved wall into Christmas tree, put gifts, ornaments and other decorative elements on the shelves and top it with star. Pic Courtesy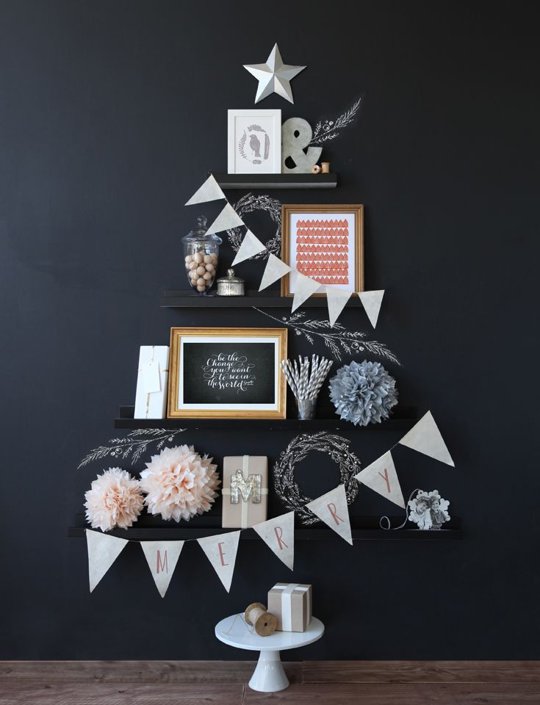 8. Play with Lights: Branches hanged on the wall in a tree shape and adorned with lights, ornaments  will make an adorable Christmas tree appeal in small space. Pic Courtesy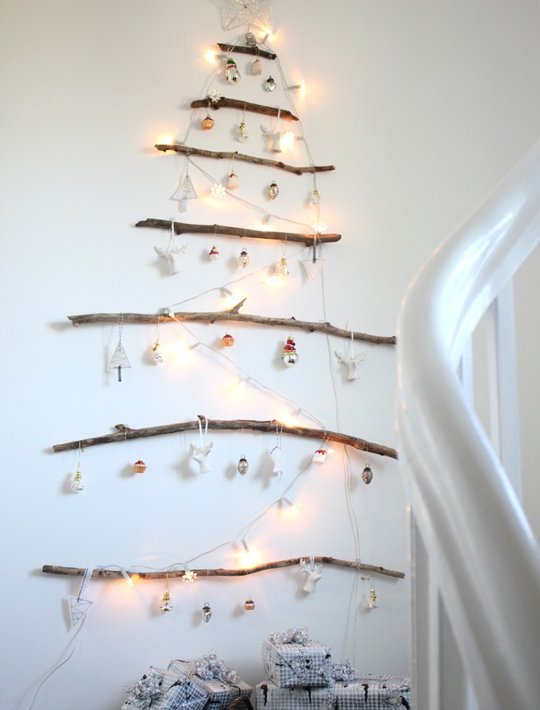 9. Use Walls: Draw a tree, use chalkboard to draw Christmas tree wrapping and decorate it with silver snowflakes and birds. Cute, isn't it? Pic Courtesy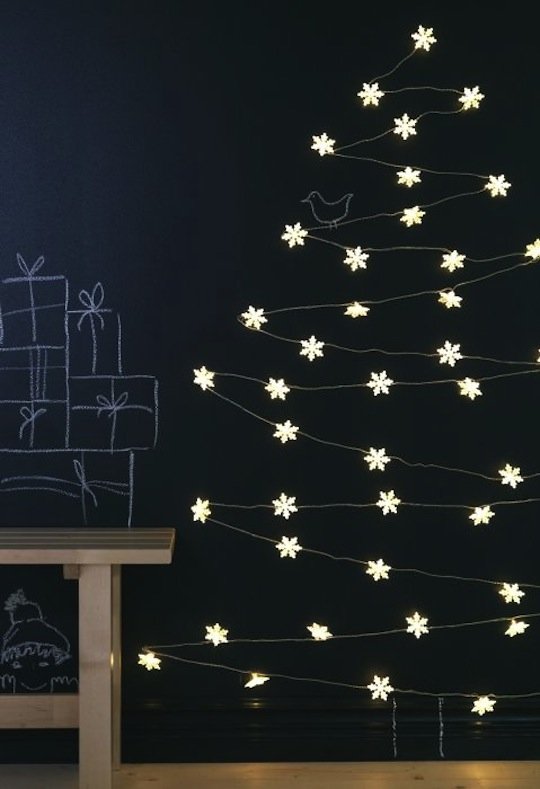 10. Bonsai Magic: Inspired by the bonsai collection, Japanese-lantern ornaments provide a pleasing change of scale on this artificial bonsai,  coated in glitter and grouped in flocks of like colors. Pic Courtesy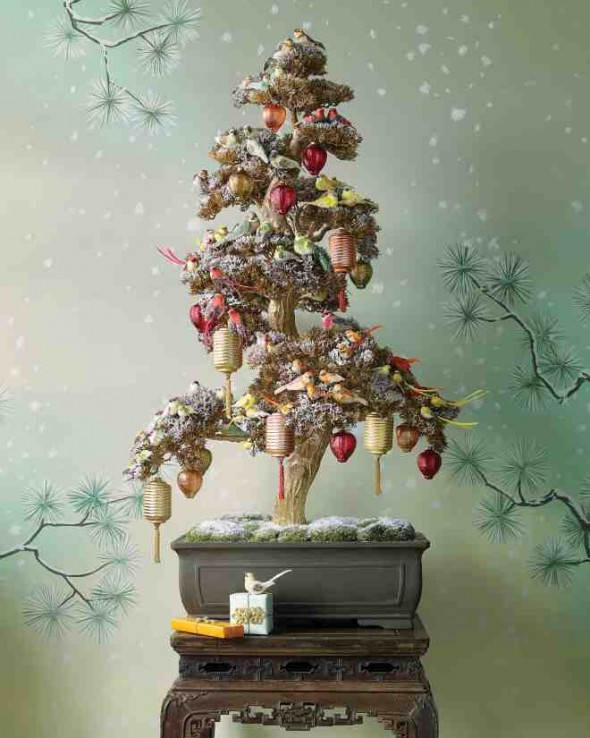 These 10 Christmas tree decoration ideas can be executed in minutes and add special touch even to the smallest space. Lets Celebrate Impressive!!