The furniture pieces that use whole logs are referred to as the log furniture pieces. This type of furniture comes under the broad category of rustic furniture which is preferred by those who want to give their homes and offices a countrified appeal.
These furniture pieces never go out of style and have a timeless charm about them. However, when it comes to buying the same individuals have to make sure to get in touch with the genuine log furniture place or craftsmen to ensure that what they are buying is worth investing in.
Types of woods used for log furniture
The log furniture is crafted from a variety of wood types. Some people think that using timbre that is sturdy will give longevity to their furniture pieces. This however is not true. It is important that the timbre used goes through a proper drying out and curing process prior to being used for crafting furniture to give strength to the piece being crafted. Also, the approach of construction has a direct effect on the sturdiness of the furniture. The different types of woods used for log furniture include but are not limited to;
Osage orange
Pine
Willow
Aspen
White cedar
Walnut
Red cedar
Hickory etc.
Despite the type of wood used in making log furniture it is relatively pricier than ordinary wood furniture options.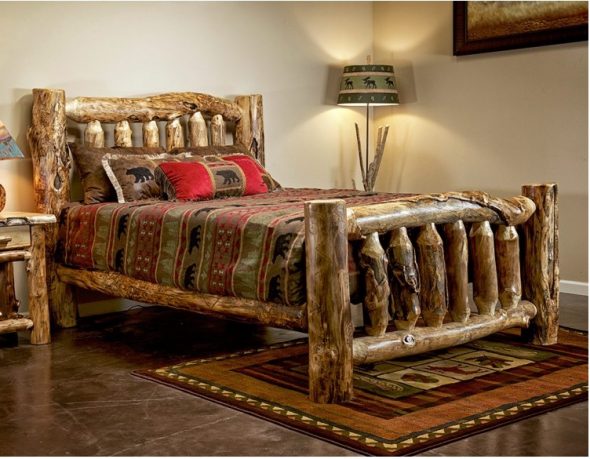 What is a checking?
Sometimes the logs used in furniture have cracks in them. These cracks specifically run vertically and are referred to as 'check or checking'. The size of these checks is directly proportional to the size of the log. The checks appears during the drying out process of the logs. It helps the timbre in releasing moisture through these vertical stress relief cracking, which minimizes the risk of rotting of timbre. Sometimes these may run deep but are a completely normal occurrence as they cannot be avoided.
Sometimes customers are hesitant about buying the furniture pieces with checking cracks. What they do not know is that these are not defects and in no way affect the;
Sturdiness of the timbre
Design of the furniture piece
Functionality of the piece crafted
In fact the collectors who are always looking for rustic furniture seek options in furniture with markings like;
Checks
Burls
Beetle marks
Knots
Other imperfections
Log furniture maintenance tips
When using the furniture outdoors it is recommended to coat them with a protective finish to ensure its sturdiness against the extreme temperatures. Also preferably the log furniture should be placed in a shaded area.
Even when using indoors high quality finishes and paints should be used which seeps into the pores of timbre to ensure they remain stainless and functional for longer time.