Decorating bedroom? Planning to buy new furniture for bedroom? Confused about best bedroom layout ideas for square room? Well, you are not alone in this mind joggling task. Like many, I have personally faced this problem a lot, which is the most suited small bedroom ideas design, what should be my bedroom décor theme and what are the latest bedroom decorating ideas?
Well, as a lifestyle buff I want my personal space to be of my liking and taste while not compromising on the latest trends. I found these amazing designs and bedroom interiors which can be used in any setting, small to a big space. Here we go!
Let's face it, you can't increase the footage of a small square bedroom, but well-designed bedroom interiors can help you make optimal use of the space you have.
Before moving to room décor ideas lets focus on the essentials;
Beds for Small Rooms – A comfortable bed is the most important piece of furniture you can invest on, start there. Buying a large bed means sacrificing floor space and would have to compromise on other furniture, my suggestion invest on a customized bed which allows you a good night's sleep. Positioning the bed makes lots of difference, avoid placing the bed in front of window, which will block natural light and make space look smaller. Worldwide interior design standards recommend a minimum of 2 feet around the perimeter of a bed allowing an inviting, open ambience.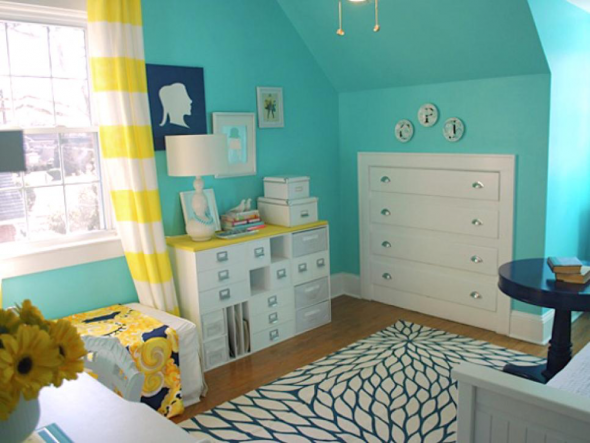 Modern Beds such as Ikea Mandal Headboard will allow you to add as many shelves as you need to the headboard and is easy to remove. On the other hand Ikea Brimnes Bed frame offers plenty of storage in the headboard and base. For under bed storage you can experiment with wicker baskets and storage drawers. Basket lady has amazing range of wicker boxes designed especially for under- bed storage.
Additional Small Bedroom Furniture – Bulky furniture is a Big No for small square bedrooms, replace drawers and dressers with smaller counterparts. I personally like rugs they offer great seating space and give maximum floor utilization. Smaller reading chair can be doubled as a desk chair and can be used as makeshift storage space for gadgets you use every day. Small bench at the end of the bed acts as great storage space for extra bedding.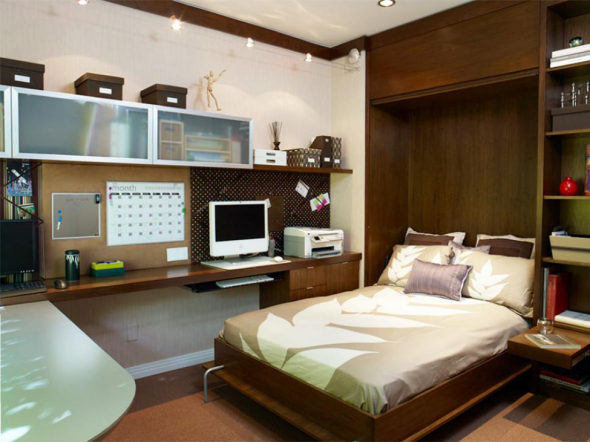 Space – Saving Furniture for your Small Bedroom
Apartment-size dressers, chests and nightstands are good option to invest on. For height and multifunctional storage with shelves and drawers check out Crate and Barrel Barnes Wardrobe and if you are looking at vertical storage, nothing works better than Ikea Lack Wall Shelf Unit.
Over-the-door Storage is a clever way to make use of valuable wall space, com has amazing collection of storage pockets. I found this Overdoor Shoe Rack at Container Store, it is functional, easy to manage and keeps my shoe collection well managed.
Mirrors – To maximize natural light in the room, place large mirror on the shelf opposite to the window, they reflect light and give the illusion of a bigger room.Choose smart, multipurpose mirrors that act as an additional storage space, my personal favorite is jewelry chest and mirror combo by Mercury Row.
Wall Space – Vertical wall space is savior in the square bedroom layouts, open shelves can provide storage space for books. Open shelves can also be used perfectly for display, mounting a flat screen television. A floor-to-ceiling open shelving unit can accommodate hats, purses and bins or baskets for mittens, gloves, scarves and other personal items. A clutter free bedroom is the most important aspect for an aesthetically pleasing, functional bedroom.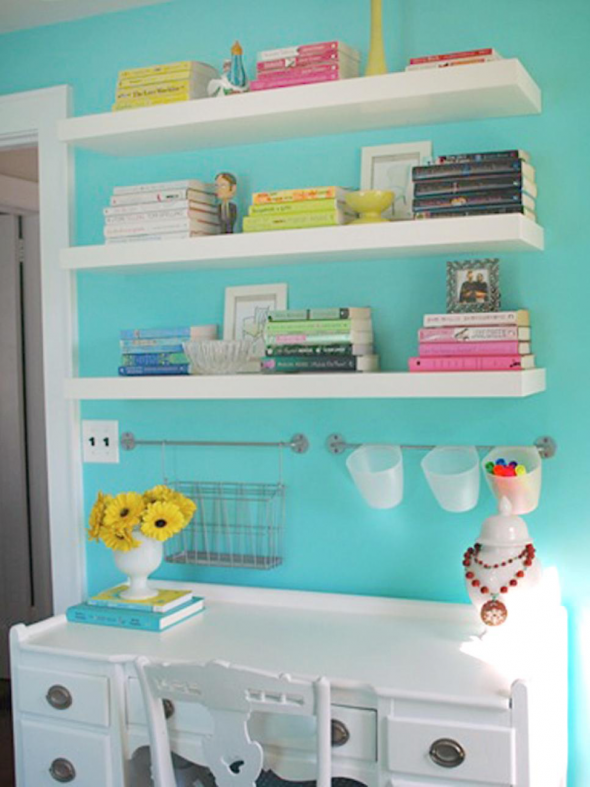 Color – Dark paint or light paint? It is an ultimate debate for interior designers. But, for me as long as you like it you pick it! Light colors definitely enhance the feeling of space, neutral colored walls and furnishings will offer a visually expanded room. Instead of choosing a darker shade of the color you like pick lighter shade, or if you are lucky to have lots of natural light go for one textured wall and rest in plain white or beige. Peach is hot color this summer, it is way of neutral color and doesn't overpower the space.
What aspects to be considered while decorating small bedroom for boy/girl?
Girls Bedroom Ideas – Days of over the pink décor, frilly beds and unicorns are definitely gone. We want glamour! A plain white room with chic wall/ceiling decals are certainly in. From bold bohemian patterns to cheery cottage style, you can mix-match the fabrics and accessories. Bedroom Interior design for girls has to be created with activity in mind, create small zones for studying, sleeping and lounging.
Boys Bedroom Ideas – Superheroes are becoming modern, so why to stick with old and stereotype décor for boys room. Create a bright and happy room, contrast colors are in, get over red and blue theme, please. Boys need lots of storage, well strike that off, they need lots of open storage, why not to give it a twist? Colorful bins and baskets hold everything from art supplies to playing cards. Metal is the new wood and nothing says more masculine than metal, add metal accents in the boys room such as rolling bookshelf, an industrial style curtain rod and metal shelf for the display.
Well, let's have a look at these beautiful bedrooms, they are small, chic and modern.