Unfortunately, your home isn't going to look better on its own magically. As the homeowner, it's your job to step up and make sure your space is getting the attention it deserves. As time passes your house is going to age, and it'll start to fall apart if you don't maintain it.
Instead, you can avoid this happening by being ahead of the game and acting early. Take pride in making sure your home always looks amazing and impressive. You can do this by paying special attention to particular aspects of your house and investing the time, energy and money it'll require to complete the necessary upgrades and tweaks.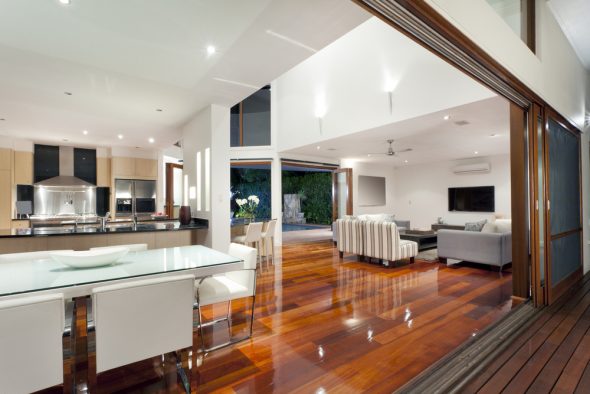 Tender Loving Care
A good place to start your home makeover journey is by organizing and decluttering what you already own. After all, a clean home is a happy home! Go room by room and sort through and get rid of or donate what you no longer need or want. It's easy to let your home return to its messy state again as time passes, but don't let your hard work and efforts go to waste. Always show your home tender loving care by cleaning it consistently and never letting it get too disorganized. Ask your spouse and kids to pitch in and help, so the pressure isn't all on your shoulders.
New Paint
Take a tour of your home and make a note of rooms and walls that could use a new coat of paint. Either use this as an opportunity to complete a DIY painting project or hire a contractor to do it for you. Consult with a professional if you want to make drastic changes to the paint color and aren't sure where to start. This is your chance to add an accent wall or two, or completely change the look of one of your main rooms in the home. Either way, new paint is going to transform a drab home, and you'll likely be pleased with the results.
Modern Furnishings
It's common to let your furniture wear overtime and do nothing about it because it's comfortable and what you're used to having in your home. Now is the time to take inventory of old pieces and start replacing them one by one. Shop a brand like Como if you want quality modern furniture. They offer various styles, colors and designs you're sure to fall in love with instantly. What your home needs to look amazing is a mix of fashion and comfort.
Updated Kitchen & Bathrooms
The rooms in your home that have the most power over how your space looks overall are your kitchen and bathroom. They're the most used and seen rooms in the home, so it only makes sense you'd want them to be fabulous. Start by making small bathroom remodeling updates if you don't want to invest in a complete makeover right away. You could switch out faucets, paint the cabinets and replace countertops for an instant facelift, as it's no secret that a home with an updated kitchen and bathroom is more attractive. Put your focus on these rooms first, and you'll notice that your home has a better vibe overall.
Curb Appeal
With all the updates happening inside, it's easy to forget about the exterior of your home as you work on making it look amazing. Imagine yourself pulling up to your home and start picturing what you'd like to see as you drive up and enter the space. Consider replacing your mailbox, hiring a landscaper and placing an attractive bench or plants on your front porch for better curb appeal. Another idea is to paint your front door and shutters an attractive, fresh color of paint. Your changes don't have to be drastic and gaudy, instead, focus on making them tasteful and classy. And if your roof is damaged or around 25 years old, it might be time to have it replaced with a new one, this home roofing companies says.
Relaxing Backyard
One place you're sure to spend a lot of time when the weather is nice is in your backyard. You can get help from high quality maryland deck builders if you want to add a deck to your backyard, you can also put some shrubs for privacy and set up an area for grilling and entertaining. Consider adding lounging furniture for sunning or a place to sit when you have guests over. Add colorful flowers and water elements to make it a more peaceful and relaxing space. You won't regret having a calming escape to head to after a long day of work when that's all you want to do is kick your feet up and close your eyes. If you need a siding installation or repair services, contact a siding contractor at BA Roofing today.
Beautiful Flooring
New carpets and refinished hardwood floors have the ability to brighten your home and make it feel like you're walking into a brand new space. Carpet also adds an undeniable coziness factor. If your hardwood floors are cold on your feet, then throw down a few colorful area rugs that will quickly warm it up and bring some life to the space. It's easy to forget about the impact your floors have on the overall look of your home, but know these updates are worth your investment and will hold up over time if you take care of them.
Strategically Placed Décor
Decorating can get out of hand if you're not paying attention to what you're doing. It's not a good idea to place all items you own on display just because you can. Think more strategically and organize your décor discerningly around your home. Don't be afraid to get rid of old pieces and replace them with more modern options like plants, candles, pillows and attractive lamps. Remember to also add a personal touch like family photos or handmade art if you want your space to feel homier.
Conclusion
This is your opportunity to turn it up a notch in your home and make it truly look amazing. Use these tips to get you started and then apply your creativity and ideas to take it a step further and design your dream home in your current space. You'll quickly fall back in love with your home and may choose to live there even longer than originally planned. Once you're finished making your house look amazing, you should sit back and enjoy the beautiful results.