Whether you are looking to sell your property and make your first deal on the real estate market, or are looking for your next home improvement project, summer is the ideal time of year to consider taking on a home renovation. The size and scale of your renovation work will depend entirely on you, from spending a small fortune on updating your kitchen and family room, to even keeping things simple and clearing your driveway or painting your porch and doorframes. No matter how much time you have on your hands, why not use the warmer weather to your advantage and get creative this summer.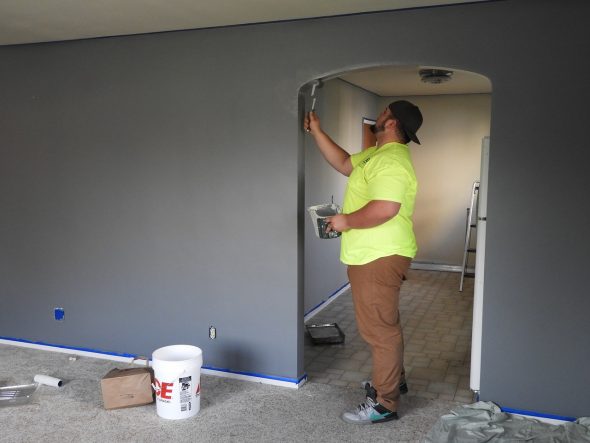 Quick fixes
If you are looking for a home renovation project that will not take months to complete but will ensure you a maximum return on investment, then consider updating either your kitchen or windows. Replacing your windows for more energy efficient versions will be a massive attraction for any potential homebuyer, not to mention it can improve the energy score of your property. This improvement will also have benefits for you as a homeowner, as you can enjoy a warm and cozy home in the colder months also. No matter how big your property, there is nothing better than having an updated, spacious kitchen that is practical enough for you to enjoy with your entire family. Make sure that you consider the designs carefully when renovating your kitchen, as you will want to have enough space for both socializing and daily life.
Get expert help
If you are considering embarking on a larger scale home renovation project, but are not sure where to start, then it will pay off to consult the experts to ensure that your designs and proposed alterations are all acceptable. Companies such as Titus Contracting offer full-service remodeling and one of their employees Scott Rajavuori wins 2018 Best of Houzz Service Award. Make sure that you are realistic about timings and budget when it comes to a larger project. The chances are that you will overspend and will not get all the work completed on time! Take your time, and you will soon have a home that you are proud of, plus a project that has added increased value to your current real estate total.
Summer is the ideal time to consider undertaking home renovation and improvement project. Even if you are new to DIY, you can still make the most of the warmer months and add value to your home, regardless of whether you are looking to move or not. Consider a quick fix, such as a smaller improvement or paint job to get your home ready for the colder months, and ensure that you enjoy and make the most of your living space. While making sure to consult the experts and get help if you are planning a serious home renovation that will take several months and a large budget to complete. Remain realistic when it comes to your home improvements, as you may overspend and the work could take longer than you had planned. However, your efforts will pay off, and you will be left with a beautiful, improved home.