Having insufficient space in your home is a problem many people face at one time or another. It can happen because your family is growing, or when you've had to make space for an elderly parent. You might simply have amassed so many belongings that you no longer have enough storage space for everything. Or it might be that you want a more open-plan style of living. Unfortunately, you can't wave a magic wand and increase the size of your home in a flash, but there are several innovative ways you can make your home bigger.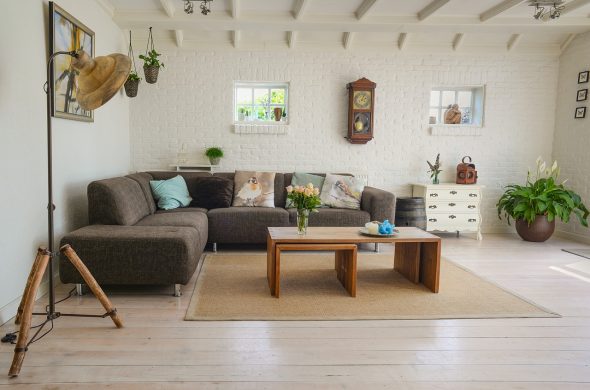 Rethink your existing space
It may be something of a modern cliché, but decluttering is the best way to start your appraisal of the space you have available. That doesn't mean you have to go mad and get rid of everything you own, but shifting anything you don't use or need is a useful first step. By clearing away as much as you can, you'll be able to get a better idea of what space you have and what needs to be fitted into it. Then take a look at your storage and see if there is scope for finding better solutions, for example, fitted wardrobes or space saver units in the kitchen. There are some very clever storage ideas on the Internet, so have a browse and see what would work for you. Next, have a look at walls and room designs, and see if you have any dead space that could be put to use if you removed or replaced walls. You might decide that you don't really need the downstairs bathroom and it would be better converted into a utility room or knocked through to open up the kitchen.
Bigger projects
You might find that you can reclaim the space you need by going through the aforementioned process, but if this isn't enough, then some degree of investment in remodeling or extending may be required. Before you make any plans as to what you would like done, work out a budget so you have an idea of how much you can afford to spend. You can also look at finance options such as home improvement loans and re-mortgaging which would give you more scope. If finance would be an affordable option for you, get more info from a reputable financial broker so you can factor this into your budget. It's then a question of deciding what you need to do to get the space you require. If you want an extra room for a specific purpose, then a loft conversion might be a good option or a garden room that could be used as a studio or office. If you just want more indoor space, then adding a conservatory is a less invasive prospect than a full-blown extension.
If none of these options is going to give you what you want, then moving may be an option, but if you love the house, you're in it's well worth exploring some other measures to find the extra room you need.