There is no room in the home that is more important than the bedroom. This is the space where you can go to relax and fall asleep, so it should always be somewhere that you enjoy spending time. Often, people do not put enough thought and effort into this space. Unfortunately, this can interfere with your mood which, in turn, could make it harder to get off to sleep each night. It is for this reason why it is worth revamping your bedroom from time to time so that you can create a welcoming, stylish space that is a reflection of your personality.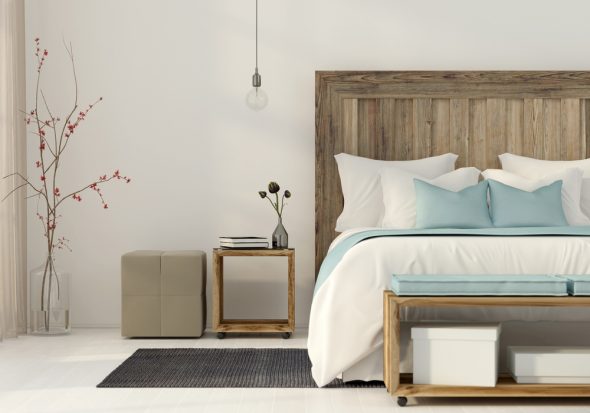 Wall Color
One of the most effective ways to revamp your bedroom is to change the color of the walls as this will have a significant impact on how the room both looks and feels. Many people tend to go for neutral, soft colors in the bedroom, which is a good idea to create a calming effect, but you could go with something bolder if this is more in tune with your personality.
Artwork
Art is a brilliant way to improve the bedroom and a great way to inject personality and style. What this art is will depend on your taste, but a few good options include black and white photographs, film posters and ornaments. Additionally, many people like to have pictures of friends and family in the room, too.
Flooring
The floor is one of the most overlooked aspects of the bedroom, but it is a key one as it can impact the overall tone of the room and it is the first thing that you stand on each day. Floorboards with a beautiful rug can look fantastic, or a neutral carpet will work well and provide plenty of warmth which can be particularly useful in the winter.
Bedding
The bed is, of course, the centerpiece for the bedroom and it is highly worth considering ways in which you can improve your bed. This could include purchasing a new mattress and down pillows from a specialist like Down & Feather Co. to create a soft, comfortable and warm bed. Doing so could help you to fall asleep faster and stay asleep which could have a massive impact on your overall physical and mental wellbeing. You should also consider purchasing new sheets as these can make a big difference, and they are an excellent way to add color and style to the bedroom.
Plants
There are proven health benefits to having plants in the room, and the bedroom is a good place for a plant or two. Try to avoid having too many, however, as otherwise, it could feel like a jungle! Flowers are a great choice because they are pretty, plys they can add color and improve the smell of the room.
Fragrance
Following on from this, a great way to revamp the bedroom is to take steps to improve how it smells. It is hard to enjoy spending time in your bedroom and getting off to sleep if there is an unpleasant smell which is why air fresheners, scented candles, and flowers are a good option. You also need to clean the bedroom on a regular basis and open the windows as often as you can to let fresh air through.
Curtains
Buying new curtains or blinds for the bedroom is a quick and easy way to transform the space. It can be a good idea to use heavier curtains for the winter months where you will want to keep the warm in, while during the summer you could opt for something lighter. The curtains can also add color and style too.
Storage
It can be difficult to relax in a messy bedroom that is full of clutter. You can avoid this by investing in storage boxes so that you can quickly tidy everything away and keep the bedroom neat, tidy and clean. You should also have a high-quality wardrobe and chest of drawers for your clothes and remember to tidy these away instead of having them all over the room.
Rearrange
You don't always have to buy new items to revamp the bedroom as merely rearranging the room will breathe new life into the room, and you could find a better way to use the space. Try moving the direction of the bed for an entirely different viewpoint of the room. Just be sure that it is a smart place to have the bed away from any external noise!
Lighting
Lighting is how you set the tone in any room, and it can be a great way to create a welcoming atmosphere. Using candles or fairy lights can establish a warm, cozy and welcoming feel which is particularly important for this space. You also need to make sure that you can get complete darkness at nighttime so that it is easier for you to fall and stay asleep.
Statement Mirror
Everyone should have a mirror in their bedroom, and not just for practical reasons! A large statement mirror can reflect light and make any room feel much bigger, plus they can also be a way to add style if you opt for an alternative statement mirror.
Bookshelf
A bookshelf filled with books, records or anything else can add a great deal of visual interest while also providing you with somewhere to store items like books. Many people like to read in bed so having a space where you can easily access your books can be handy.
Revamping your bedroom can have a massive impact on how you feel when you walk in the door. It needs to be a space that you can comfortably relax and unwind after a long day so that you can easily fall asleep. It can be challenging to create this environment, and you may find that you need to make a few changes every now and then to keep the space interesting and stylish. You could do this with one or all of the above which will have a significant impact on how you feel and allow you to get a better night's sleep.